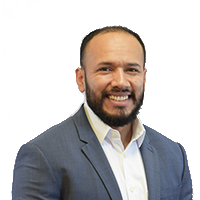 Alex Otero
Sales Engineer
Phone: (407) 915-5982
Sales Engineer
Alex Otero is currently a Sales Engineer for the Southern Manufacturing ITS product line for the Florida region. Since 2006 he has held several key positions in the organization which include purchasing manager, production manager, and planning manager before starting his current position in mid-2018. Bringing a wealth of knowledge, experience, and history from Southern he has become a key player for the Sales team. He is the primary technical interface for the customer from RFQ to delivery. He is responsible for all aspects of strengthening the customer relationship including forecasting, opportunity tracking, estimating, order management and project management.
Alex believes that the customer is one of the most valuable assets an organization can have and is driven by the unyielding pursuit of meeting the customer's expectations and delivering quality products on time. He has been able to accomplish this through the support of a highly talented and experienced team of engineers, planners and production operators in a state-of-the-art manufacturing facility.
Alex holds a B.S. degree in Management Information Systems from Columbia College of Missouri and a Professional Certificate in Project Management from the University of Central Florida. He is also a U.S. Marine Corps veteran with seven years of honorable service.