Request a Quote

We make getting a quote for your project fast and easy. Click below and fill out our request a quote form. We will get back with you shortly.
Recent News
04/18/2023 - Event Management for Daytona Beach
Aimed at improving the regional mobility for Volusia County, the Event Management project deployed multiple technologies providing real-time capabilities for the monitoring and management of arterial corridors through dynamic wayfinding. Located at the nexus of Interstate 4 and Interstate 95, the Daytona Beach area experiences significant surges in traffic volumes from tourist driven seasonal peak periods and planned or unplanned regional events. Large-scale annual events result in massive upticks in traffic on the local roadways, including increases of upwards of 400% over normal volumes for events such as the Daytona 500 and Biketoberfest. With the occasional detour traffic circumventing road closures onadjacent interstates and heavy directional traffic to and from the area's world-renowned beaches, the existing traffic management system failed to meet the needs of the Department or motoring public of the region.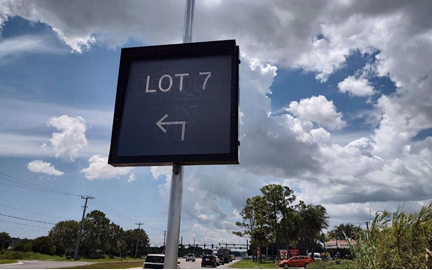 Dynamic wayfinding system deployed using remotely controlled LED blankout signs installed at key decision points throughout the city of Daytona Beach.