Product Drawings

Single Sided Thin LED
---
Thin LED Street Name Signs
The low-profile design of the Thin LED street name signs have all of the advantages of the Standard "A" Body, but offer a streamlined, thin design. Each sign is constructed with our dedication to design and partnered with technology that matches our customer's needs.
Thin LED signs are able to be made single or double-faced, and can be mounted rigidly on to a mast arm or free-swinging. While the Thin LED sign is only available in a 19 in. length, it can be made in widths of 4, 5, 6, 7, 8, 9, & 10 feet.
The Thin LED design is easy to maintain. Lens replacement requires no use of tools, and the replacement of light engines and power supplies can be done without removing the sign from the mast. We guarantee our products that excel in ease of maintenance and durability.
The .125" gauge aluminum body is continuously welded for superior strength and weather protection that can withstand winds of 110 mph. Polycarbonate lenses and films are specifically designed for outdoor use and are engineered to hold up to UV rays. In addition to standard green and blue backgrounds, signs can be built with retroreflective backgrounds.
In addition to improving visibility, our signs also allow for a degree of uniqueness. Our advanced CAD system can reproduce any logo, and the powder-coated housing can be painted to match the color of the mast arms to compliment the streetscape of any city.
Each sign is FDOT approved and UL listed and comes with a 7 year limited warranty.
Illuminated Street Signs
Standard Sign




Designed for maximum illumination and easy maintenance.
Available in single or double faces with Phillips Rebel LED strips.

Thin LED Sign




All of the advantages of our standard LED, but a slimmer frame.
Rigid or swinging mount.
19 inch only.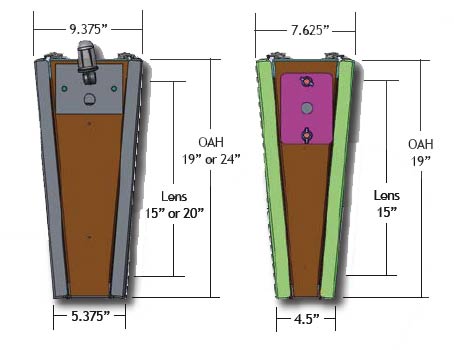 For sign inquiries, please contact one of our distibutors here
---
To talk with a Southern representative please call us at (800) 866.5699 or email us at Southern Manufacturing.