Product Drawings

P 44 59x44x26

Type IV (M)
---
NEMA 3R Traffic Enclosures
NEMA 3R enclosures offer a high level of protection from the elements. They are affixed with gaskets to protect against falling rain and particulate matter such as dust and sand. NEMA 3R enclosures are rated to withstand build-ups of ice and water while keeping the equipment inside protected and dry. Below is a list of features available for all of our NEMA rated products.
Doors & Locks
All NEMA Traffic Enclosure doors are constructed from T5052 sheet aluminum, with a double flange around the entire door area. A cellular Neoprene gasket around the door ensures a weather-tight seal. Hinges are continuous 14-gauge stainless steel and are secured with stainless steel carriage bolts. Standard equipment includes a three point locking system, which secures the door at the top, bottom, and center. A #2 lock with two keys is supplied for all NEMA Traffic-style Enclosures.
Southern Manufacturing leads the industry with our 3-position doorstop bracket. This feature allows the user to set the door at three separate pre-designated stop points for ease of access and to secure the door from wind gusts. Door locking rods are 1/4" x 3/4" aluminum turned edgeways with 1" nylon rollers. The main door handle is 3/4" diameter stainless steel. A double-door switch mounting bracket is standard and installed at the top of the door opening. A bracket for up to six switches may be installed upon request. A police door is offered on our NEMA Traffic Enclosures, and generator compartments may be added. A skeleton lock is provided with all police or generator compartments.
Ventilation
Vent slots are provided on the underside of the enclosure roof overhang, and louver slots are formed in the lower portion of the main door. This creates a natural movement of air and has a cooling effect on the electrical equipment. These slots may be screened upon request. Southern offers fiberglass filters, aluminum filters, fans, lights, air conditioners, heat regulators and thermostats.
Material
All our enclosures are produced with T5052 H32 .125" sheet aluminum. This includes all panels, doors, bodies and shelves. Our rack angle is made with cold rolled zinc plated steel. The standard finish is mill aluminum, however we offer additional finishes to meet your specifications. Southern Manufacturing matches Federal Standard 595B Paint Colors and RAL for powder coat selection.
Shelves
Full width shelves and drawers, adjustable to the height of each cabinet, are available in all NEMA Traffic Enclosures. C-channel mounting rails are installed in back and along each side per your request. Back and side panels are available to meet your specifications.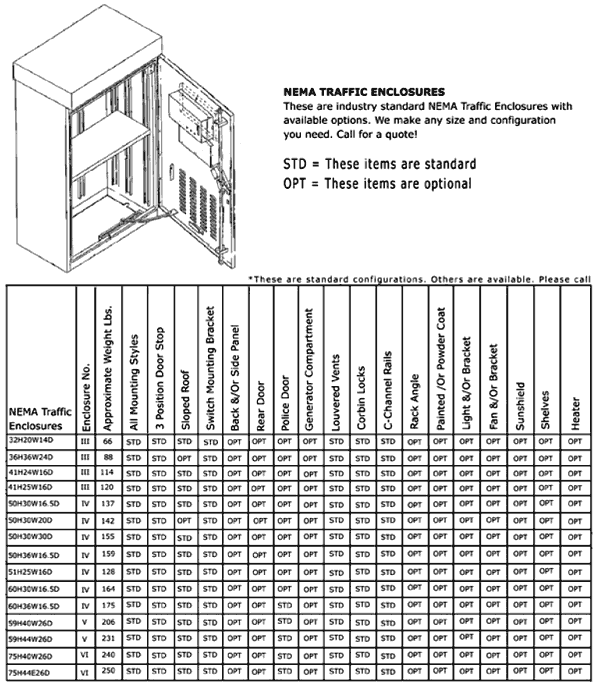 ---
To talk with a Southern representative please call us at (800) 866.5699 or email us at Southern Manufacturing.